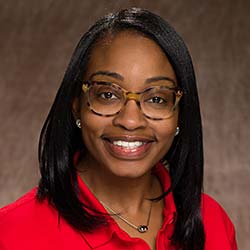 It is with great pride that I welcome you to the Educational Opportunity Fund (EOF) Program at Rutgers University School of Environmental and Biological Sciences (SEBS).
We are a unit within Rutgers – New Brunswick, SEBS EOF is located in Martin Hall on the George H. Cook Campus. As the land-grant university in the State of New Jersey, Rutgers SEBS offers students innovative teaching practices in agriculture, environmental, and biological sciences.
The SEBS EOF Team is committed to helping students reach their full academic and personal potential through academic advisement, counseling, tutoring, workshops, and other innovative programs. We believe that each scholar should have the opportunity for individual achievement through access to higher education. It is our goal to assist promising New Jersey residents to realize their dream of a university education.
As the new Assistant Dean/Director, I have been given the honor of working with a multi-talented team of administrators, counselors, and support staff. Their individual areas of expertise, professional accomplishments, and true concern for the SEBS EOF community are more than I could ever ask. Together we are here to enhance student success, support student retention and graduation, as well as facilitate enrollment in graduate and professional degree studies.
SEBS EOF scholars are a motivated group of individuals with a strong desire for academic and personal success. Through the years, EOF has helped prepare students for successful careers in all areas of STEM. We invite you to explore careers in Animal Science, Biotechnology, Entomology, Nutritional Science, Environmental Policy, Institutions, and Behavior (EPIB), Food Science, Meteorology, Exercise Science, Environmental Planning and Design, and many others.
Our alumni are researchers, physicians, physical therapists, and consultants who are solving the world's problems one discovery at a time.
Welcome to the SEBS EOF Family!
Sincerely Yours,
Dr. Jacqueline Moore